Since 2013, the Canadian Museum of History (CMH) has hosted a number of our mini exhibitions in a display case around the corner from the Grand Hall. These little exhibitions have, up until now, formed part of our efforts to remain visible and relevant while we were closed for renovations. Nevertheless, since opening our doors last July, we have elected to continue this relationship by introducing a new exhibition at the CMH on January 30: Before the Erebus: The Making of Sir John Franklin. Our last two exhibitions there, Swindle! Canadian Phantom Banks and Mining the Miners, were both developed to complement the CMH's big summer exhibitions and this time around, we chose to do the same again with Death in the Ice: The Mystery of the Franklin Expedition opening at the CMH in March. Fresh from a successful run at the National Maritime Museum in London, England, it boasts fascinating artifacts recovered from the Franklin expedition including items raised from his recently discovered ships, HMS Erebus and Terror.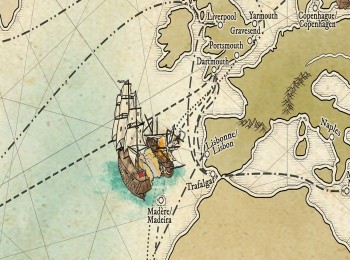 Now you might wonder how a museum specializing in economics and currency expects to interpret the history of a legendary arctic explorer—through money, of course. Among the nice things about money, and there are so very many, is its intimate connection to a society and how that can reflect a broad variety of its issues and events. War, colonization, foreign trade, military occupation, dictatorship and revolution are just a few historical scenarios evoked by our artifact selection—scenarios encountered by Sir John Franklin throughout his career. As a way of complementing the big exhibition upstairs, we have chosen to explore Franklin's career prior to his doomed expedition, instead focussing on the career that took him nearly around the globe and through some key events in 19th century history.

Plunged head-long into the Battle of Copenhagen as a fifteen-year-old naval volunteer, in an astonishing career, Franklin rose up the ranks to command his own ships and expeditions. He was aboard Matthew Flinders' ship Investigator as it circumnavigated Australia, in the thick of the Battle of Trafalgar, among those escorting the Portuguese Royal Family as it fled Napoleon and deep into "the land God gave to Cain" trekking overland from Hudson's Bay to the Coppermine River—twice. There's so much more to Franklin than the mystery surrounding his disappearance.
Most of the currency featured in this exhibition was produced in response to specific social, political or military situations or was in some way adapted to meet those needs. The artifacts were chosen to represent some of Franklin's most important encounters with history: coins of the Greek revolution, the British empire's rapid expansion, the Napoleonic Wars. In a way, it is as much about currency's ability to hold a mirror up to history as it is about Franklin.
Coins are generally small things, so for this exhibition we've given the visitor a little help. For each historic zone of Franklin's life, we've had the main artifact enlarged, 3D printed and hand-painted. Visitors can touch and flip these prop coins to see and feel details in ways that would never be possible with actual artifacts. Of course, the real artifacts are there too, several for each zone, and arranged over a wonderfully illustrated map that highlights the major voyages of Franklin's career.
Before the Erebus: the Making of Sir John Franklin will be open for a few weeks prior to Death in the Ice: The Mystery of the Franklin Expedition and will run all year. See both for a rounded picture of this extraordinary man.