Still shiny after all these years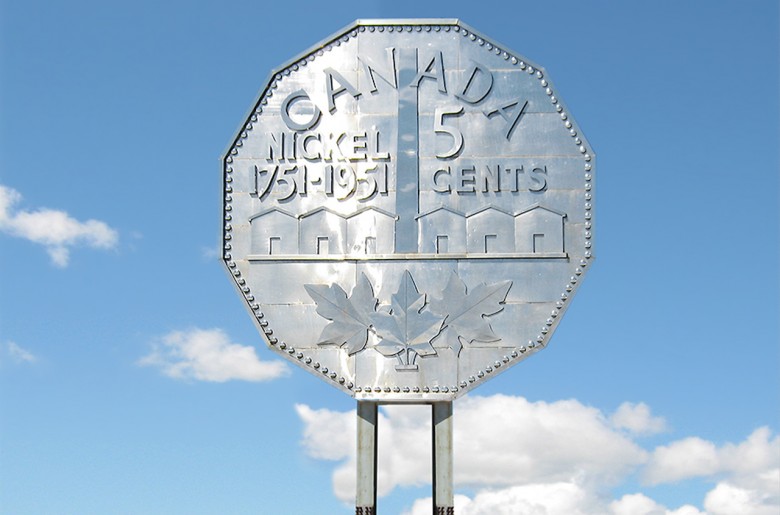 2014 marks the 50th anniversary of Sudbury's Big Nickel, that 9 meter high replica of the 1951 5 cent piece and one of Sudbury's best known symbols. Originally conceived in the 1960s as a Centennial project to promote Sudbury's mining history, the Big Nickel and its support facilities are the precursor to Sudbury's Science North and Dynamic Earth, today known internationally for their fine work in promoting science for all ages.
The commemorative 1951 5 cent piece was issued to mark the 200th anniversary of the naming of nickel and its isolation as an element. Recently, I had the great pleasure to participate in the Big Nickel anniversary festivities and give a talk about the design competition for the 1951 5 cent coin. This was Canada's first public design competition for a Canadian coin. The Mint held earlier competitions, notably one in 1936 which led to the designs that today grace our 5, 10, 25 and 50 cent coins; but these were open to only a limited number of artists and sculptors. By contrast, the 1950 competition marked the first competition that was open to all Canadians. The $1000 first prize for the winning design encouraged over 10,000 submissions from across the country. Noted sculptors and painters, commercial artists, cartoonists, artisans, art students and even those with no connection to art sent their drawings and carvings to Ottawa. Nickel mining was the dominant theme of most suggestions but others focused on Canadian symbols, wildlife or the bountiful nature of our country. In the first four months of 1950, 9 prominent Canadians judged the submissions and selected a design by Stephen Trenka from Thornhill, Ontario. The Bank of Canada Museum is fortunate to have 300 of these original design submissions. Together they represent a microcosm of Canadian artistic talent from the early postwar years.
So what do you suppose was my favourite part of the event? The wonderful people I met, the story of Canadian art history, Science North's diverse displays, the mine tour at Dynamic Earth, perhaps even the warm applause and interesting questions following my talk? In fact, the highlight of my visit was meeting Ted Szliva the visionary behind the Big Nickel. History is made by rare individuals who persist in the face of excessive odds. But, it is not often we get to meet these people. On June 10th I was honoured to meet such a person. Bravo Ted!