It's not all dollars and cents
This month's selections highlight various areas of Collection development. These include what are called financial instruments: items such as stocks, bonds shares and other articles that represent a contract to deliver money in some manner. These provide context for Canada's economic development. We are also looking at historic examples of Canadian "money" and pieces of significant international historical interest.
Canada, Share Certificate, Marconi Wireless Telegraph Company, 1906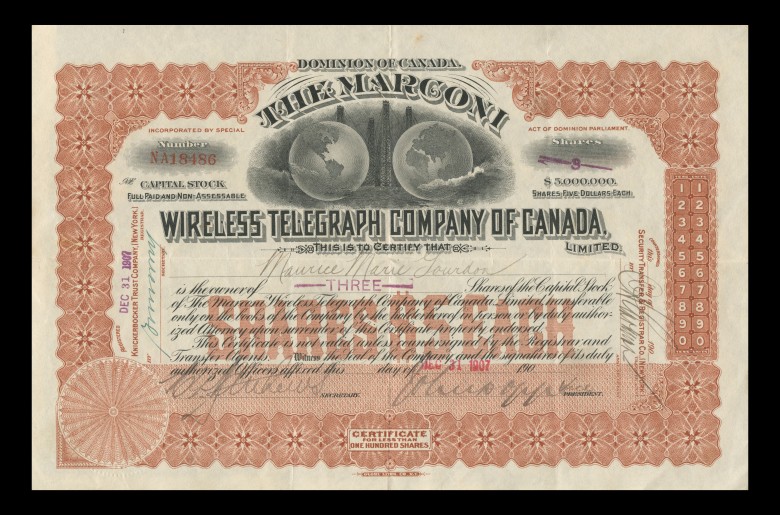 In the 19th century, the telegraph, or the sending of messages by impulses along wires using Morse Code, was the dominant form of long distance communication. This all changed at the turn of the 20th century with experiments by Marconi and Fessenden into wireless telegraphy, or radio waves. Wires were no longer needed and ships in distress could communicate with other vessels or facilities on land. The Marconi Wireless Telegraph Company was one of several firms created at that time in Europe and North America to promote (and profit from) this new form of mass communication. In 1919 Marconi Wireless opened Canada's first radio station: XWA in Montreal and later pioneered research into television.
U.S.A., unissued counterfeit notes, early 19th century
Criminals near St. Armand on the Canadian side of the Vermont/Québec border counterfeited large numbers of American bank notes in the early 19th century. Called "Cogniac Street" after slang for counterfeit money, this area was shielded from American prosecution by the international boundary and too far distant from Montreal for effective policing. In February 1813, however, local authorities arrested Daniel Blasdell, Joel Hill and Thomas Adams Lewis and seized a quantity of counterfeit notes. Blasdell turned King's evidence and informed his captors that Hill and Adams had hired him to sign their bogus paper, samples of which are shown here.
China, Park-Union Foreign Banking Corporation, 10 dollars proof, 1922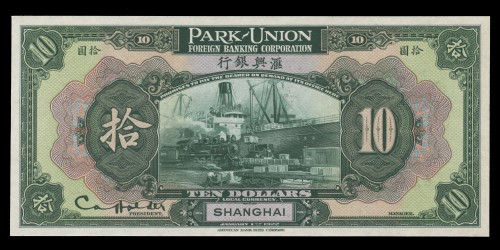 The early 20th century witnessed a considerable expansion of Canadian banks as they enlarged local networks and moved into foreign centres. Branches opened in South America, the Caribbean and Mexico to take advantage of traditional trade opportunities. In 1919, the Union Bank of Canada entered into a joint venture with the National Park Bank of New York to bring banking services to the Far East. From its head office in New York, the Park-Union Bank managed offices in Shanghai, Tokyo, Yokohama and Paris. Facing stiff competition from other foreign banks in China, the Park-Union Bank ceased operations in April 1922. No issued notes are known to exist, only specimens and printer proofs like that above.
Ilkhanids, Arghun, silver dirhem, 1284-1291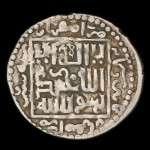 The Ilkhanids or lesser khans of Persia was one of several dynasties created during the Mongol invasions of the Eurasian continent in the 13th century. Their territory encompassed much of modern Iran and Iraq. Hulagu, grandson of Genghis Khan, became the first Ilkhanid ruler through the conquest of Persia in 1258 and with the execution of the last Abbasid ruler at Bagdad. Arghun (1284-1291) was Hulagu's grandson and fourth in the line of the Ilkhanid rulers. He is known today for his attempts to encourage the European powers to participate in a crusade against the Mamluks of Egypt. Silver dirhems issued during his rule include both Mongolian and Arabic script.