After four months in our new digs the Collections Team is starting to settle in. But even though most of the boxes have been unpacked there is still a lot of work to do. In 2014 we will be collaborating with the Exhibitions Team on travelling exhibits and coming up with ideas for the new museum space. But while we are looking forward to these new challenges, day-to-day care of the collection is an ongoing process.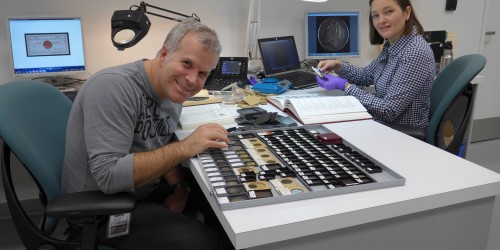 With over 100,000 objects in our collection, keeping track of everything is a full time job. In 2014 our team will continue to review the collection to verify that everything is properly numbered and in the right place. Think of it as a vast library - but with objects instead of books. We will also continue to update our catalogue entries to ensure that all the object records are accurate and up-to-date. To help us better document the collection, our team is anticipating the launch of a new database later this year.
Many projects are long term and are ongoing from last year. Our imaging team diligently photographs and scans artifacts. Currently 82% of the collection has been digitized. This project has two aims: to better document the artifacts for research and identification, and to make the collection more accessible to the public through our website.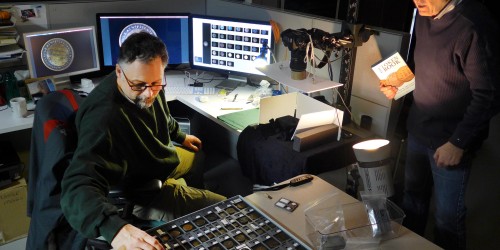 The curators will be busy too. In addition to supporting the Exhibitions Team and replying to public inquiries, we will be pursuing the National Currency Collection's research plan. Curatorial research is intended to further our understanding of Canada's numismatic history. This gives us better insight into the collection and also identifies areas where the collection needs to be strengthened. We'll be giving updates on the research being done as the year progresses.
So after a busy year in 2013 that saw us packing up the museum and moving our entire collection, 2014 will not see us slowing down! The Collections Team will be working hard to document, preserve, expand, and understand our collection - and to make it more accessible online and in travelling exhibits!
September 12, 2023

With the continuing rise of e-transfers and electronic payments, people have been predicting the death of the humble cheque for decades. But it hasn't happened yet.
July 31, 2023

Few of us ever get a chance to see a Scenes of Canada $100 bill. Which is a pity, because it is an example of great bank note design with even greater imagery by a master engraver.
July 13, 2023

Collecting paper money seems simple enough. But, paper is delicate stuff and demands a gentle touch.