Some preservation pointers for collectors
Coin collecting can be a fun and fascinating hobby. But there are a few things you should know to keep your collection safe and in good condition. Because coins aren't as durable as you might imagine.
Preservation? Treatment? Restoration?
You may think these words mean the same thing, and they do all fall under the term "conservation." But in the museum world, these words represent degrees of care involving increasing levels of active treatment:
Preservation provides a stable environment that minimizes further damage to or deterioration of an artifact.
Treatment minimizes further damage or deterioration by repairing an artifact or removing harmful surface contaminants. This must be reversible without causing harm to the object.
Restoration takes the artifact back to its original state and is irreversible.
As a coin collector, you should be only in preservation mode. Treatments, like repairs or cleaning, should be left to a professional who has had years of specialized training. These folks are called "conservators." And restoration? Well, that's what you do with antique cars, not coins.
Managing your coin collection
Know your enemy
All sorts of things can damage coins. This damage mostly takes the form of tarnish which dulls and discolours the surface of a coin. Sometimes this is called "patina," where the metal's reaction forms a protective layer that can be quite beautiful. At worst, a coin can have active corrosion, identified by the flaking or powdering of the metal surface. Tarnish and corrosion are both the result of metals reacting to airborne pollutants or moisture.
Pollutants can come from manufactured and natural products in a process called off-gassing. It's amazing what seemingly innocent things can give off harmful gases. Does it seem like a good idea to store your coins in soft wool or velvet? Or to keep them in a nice oak or cedar cabinet? It isn't. All of these materials give off nasty acidic gases that will promote deterioration in your collection. Rubber is especially hard on silver, causing it to quickly blacken with tarnish.
Have a look at this online guide from the Canadian Conservation Institute to see a full list of pollutants that affect metals.
The home vault
Scratching, denting and smudging are certainly more obvious enemies of a nice collection than stuff in the air. But proper storage will nearly eliminate the threat of both physical and gaseous agents. It is by far the best thing you can do for your collection. The average collector will not be able to afford the climate-controlled space and cabinetry of a museum, but adequate protection can be had with little expense.
Your initial task as a collection manager is to find the best spot to store your collection. It should be a cool, dry place that reliably stays that way. You want to avoid keeping your collection anyplace in your home with high or fluctuating temperatures and humidity. This means that most kitchens, bathrooms, basements, attics and garages are not great choices. Now that you've found a suitable spot for your coins, you need to create a tiny home for each coin.
Sleeves and pockets
Coins suffer a lot from being knocked about together. A bowl on your dresser or a felt bag may have been a convenient means of hanging onto interesting coins but as storage systems, they are not the best ideas. As a more serious collector, you need to up your storage game with preventative conservation. Correct storage protects coins from dust, moisture, handling, abrasion and the airborne gasses that cause corrosion and tarnish. As well, coins need to be stored individually so they don't damage each other. Most storage products will deal with all these risks well.
A good start would be to purchase inexpensive plastic sleeves, envelopes and binder pages. Available from a hobby store or coin dealer, these products are generally made of clear acrylic or polyester materials such as Melinex. They are acid-free and do not degrade, give off gas or evolve into anything weird or dangerous. A variety of these products are available, from foam-lined, acrylic cases (or, capsules) for individual items to binder pages for large numbers of coins. Vinyl-based materials (soft and rubbery) are not safe. Vinyl products degrade, become soft and give off benzoic acid, which causes corrosion in copper and bronze. (That new car smell many of us enjoy is actually the off-gassing of vinyl and glue.) If you are not sure what the product is made of, ask the retailer or check online.
One of the cheapest and most effective ways to store coins is in coin flips. These are little polyester or polypropylene folders with pockets–one for a coin and one for an information card. They replace the old cardboard and mylar folding flips that are no longer considered safe. But, like the old flips, these modern ones can be stored in binder pages and are usually available online or from coin dealers and hobby shops.
Handle with care
You can do a surprising amount of damage to coins by simply touching them. You may have the hands of a surgeon, but those hands also carry natural oils that will mark your coins. In fact, a fingerprint can etch itself permanently onto the surface. You can avoid adding more fingerprints to your coins by wearing nitrile gloves when you handle them—and to be safest, hold them only by the edges, please.
Cleaning your collection
In a word: don't
Preservation involves keeping coins safe from further damage or deterioration. What it doesn't normally involve is cleaning them. It may seem counterintuitive—and frustrating—not to clean your coins. It's like buying an old sports car and not being allowed to polish the fenders. Mind you, this is not an absolute rule, but one you apply depending on your needs or the value of your coins. They are yours, after all. But, for the greater good, we recommend you leave your coins pretty much as you found them, apart from a bit of careful dusting with a nice camel-hair brush. (Actually, most "camel hair" brushes are made from much softer squirrel hair!)
This is especially important if you have a rare coin or one you intend to sell. Unless treatment is done by a professional conservator, most any attempt to clean a coin will likely cause some damage (usually from abrasion). Most dealers and serious collectors will be suspicious of a clean, shiny coin, so learn to love patina!
In a few more words: fine, clean it, but be very careful
OK, if you have common coins of small value, it is generally safe to clean them. Gently. You can deal with surface dirt by submerging the coins in warm water (distilled or deionized) and liquid dish soap (something free of additives like perfumes and dyes). Later, rinse them in clean water and pat dry with a lint-free, non-abrasive cloth. Don't use cleaning products or metal polishes as they contain abrasives. The scratches they cause may not be immediately obvious to the naked eye but will be visible under a professional's magnifying glass.
So, take care. That's what we hope you do with your collection, because we want it to be around—and enjoyed—for a very long time.
For more preservation pointers, the Royal Canadian Numismatic Association offers a comprehensive list of coin and bank note resources.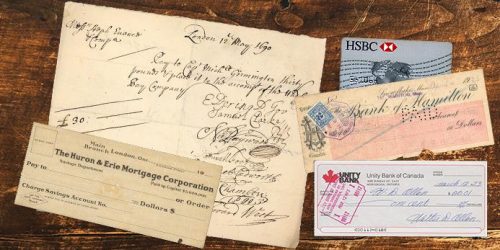 A checkup on cheques
With the continuing rise of e-transfers and electronic payments, people have been predicting the death of the humble cheque for decades. But it hasn't happened yet.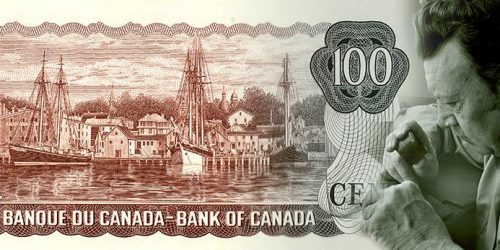 The Scenes of Canada series $100 bill
Few of us ever get a chance to see a Scenes of Canada $100 bill. Which is a pity, because it is an example of great bank note design with even greater imagery by a master engraver.