It's a new year—the perfect time to look back at some notable artifacts the Bank of Canada Museum added to the National Currency Collection in 2022.
Each year, the Museum's National Currency Collection grows, sometimes by several hundred objects. They join the collection by being purchased at auction, transferred from other organizations or donated by the public.
Some acquisitions are planned, others are complete surprises. But each object has a unique story to tell about Canada's monetary and economic history.
Developing the Canadian collection
Part of the Museum's mandate is to acquire current Canadian coins and notes. In 2022, one interesting addition in this area was a set of bank notes from the Bank of Canada's Frontiers series with the signatures of then-Acting Senior Deputy Governor Timothy Lane and Governor Tiff Macklem.
After the departure of Carolyn A. Wilkins on December 9, 2020, Timothy Lane served as Acting Senior Deputy Governor until Carolyn Rogers took over the role on December 12, 2021. This bank note series is the first to have been signed by an acting Senior Deputy Governor.
We also added some unplanned acquisitions to the National Currency Collection in 2022.
Early in the year, we purchased a Canada Banking Company 5-shilling note from 1792. These rare notes represent the first attempt to establish a bank in Montréal to financially support the fur trade. However, this bank never opened for business because of a lack of public interest. Despite the Canada Banking Company's failed attempt, it took almost 25 years for the first bank, the Bank of Montreal, to open in Canada. Since then, over 100 private and chartered banks have operated across the country, many of them issuing their own notes.
The Museum's collection currently includes over 5,200 commercial bank notes and continues to grow.
Another extraordinary addition to the Museum's collection was a Stadacona Bank $5 note from 1874 with the serial number 1. The Museum acquired the note directly from an ancestor of the Stadacona Bank's founder, Abraham Joseph. It was among a handful of banks opened in Quebec after Confederation to expand the banking network to reach more local communities. But a severe financial crisis starting in 1875 decimated the province's banking industry and affected small banks like the Stadacona, which permanently closed in 1879.
We were excited to finally add an issued 1911 Dominion of Canada $500 note to the Museum's collection in 2022. This was one of only a few issued government notes missing from the National Currency Collection. Only three examples of the note are known. Government-issued high-denomination notes were intended mainly for banks to settle accounts. But unlike the so-called "bank legals"—high-denomination notes intended for use only among banks—the 1911 and 1924 $500 and $1,000 Dominion of Canada notes could be held and used by the general public. Can you imagine how rare it must have been to have such a high-value note in your possession?
Artifacts on exhibition
Some of the Museum's collection is presented in our permanent and temporary exhibitions–but we don't have room to show all of it! So, we regularly switch up the artifacts on display. Implementing a rotation schedule to display artifacts is good practice for any museum. For the preservation of light-sensitive artifacts, especially those made of paper such as bank notes and financial documents, the Museum set out to acquire pieces that can be used as substitutes for items that need a break from display.
International notes
Acquisitions intended for display include two scarce notes from the Dutch East Indies: 25 and 50 gulden of the Bank of Java. These notes, particularly the large 50-gulden note, feature stunning engravings of male and female figures wearing traditional Javanese dress. The Dutch East Indies was founded through the nationalization of Dutch East India Company trading posts established on several of the islands that make up Indonesia today. The Second World War greatly weakened Dutch colonialism, and a growing movement of Indonesian nationalism spurred the Republic to gain its independence in 1945. Japanese occupation of the islands during the war cut short general circulation of these notes thus making them very difficult to find today.
Another acquisition intended for display consisted of notes printed on unusual substrates. The aftermath of the First World War left the German economy in shambles, facing catastrophic inflation and an insurmountable debt from reparations owed to war victims. To fill the void left by the absence of a stable national currency, notgeld—literally "emergency money"—began being printed by:
municipal governments in Germany and Austria
savings banks
private firms
Millions of notgeld were printed, and over 10,000 varieties exist. The Museum's collection boasts more than 20,000 different pieces. The majority were printed on paper. Some, however, were made of materials like cloth, silk, wood, aluminum foil, and leather.
Perhaps these materials were chosen to promote local industry or to make use of an abundant local commodity. Whatever the reason, collectors seek out notgeld printed on unusual substrates. The Museum's display explaining inflation and deflation includes a notgeld, and we acquired a note from Poessneck, Germany printed on leather to include in the yearly rotation of artifacts.
Collecting in the moment
The world is constantly changing. While museums might be considered places that preserve the past, we must also be attuned to what's happening in the present. Museum staff work to ensure the collection remains up to date and relevant so that the stories that are important now to communities in Canada can be retold for generations to come.
COVID‑19 pandemic
The COVID‑19 pandemic remains with us and, while the days of lockdowns and curbside pick-ups are (hopefully!) behind us, the waves of the virus continue. Since early 2020 the Museum has kept an eye out for opportunities to collect objects that reflect the economic impacts the pandemic has had across Canada.
Supply chain disruptions have been a hallmark of the pandemic. In spring 2020, shortages of important personal protective equipment and hand sanitizer led many breweries and distilleries across the country to retool their operations to meet demand. In Almonte, Ontario, Dairy Distillery was one such example: it ceased all production of its spirits and liquors to make hand sanitizer. The distillery had its first batch ready by April 2020 and went on to supply major organizations such as The Ottawa Hospital and the City of Ottawa. It also supported not-for-profit organizations through a "buy one to give one" program. The distillery created flyers to promote the program, one of which is now part of the National Currency Collection.
Lockdowns were particularly hard on small businesses, prompting communities across the country to rally around their local merchants once the economy reopened. In the Charlevoix region of Quebec, officials encouraged residents to buy local by introducing a regional currency, called La Chouenne, in fall 2021. The colourful notes feature original art by Charlevoix artists and come in denominations of 1, 5, 10, 20, and 50 chouennes. Consumers exchange their Canadian dollars for chouennes at a 5% discount, then use them at participating businesses. Chouennes trade hands from consumers to producers and back again throughout the region, fostering the local economy. But local currencies are not a new idea and there are several others that circulate in communities across Canada. A set of chouennes now joins other examples in the Museum's collection from Fredericton, New Brunswick; Calgary, Alberta; and Salt Spring Island, British Columbia.
Climate change
The effects of climate change are all around us, whether it's extreme weather, higher food prices or advertisements for "green" everything. Around the world, governments are trying to transition toward a low-carbon future without affecting their economies negatively. In Canada, the federal government implemented a Fuel Charge Rate, commonly known as a carbon tax. It also introduced the climate action incentive in some provinces to provide relief to households affected by rising costs associated with the carbon tax. Though it was first introduced as a tax credit, the payment is now made directly to residents each quarter. A resident of Ontario donated one of their rebate cheques to the Museum, where it now joins our extensive collection of cheques and payment instruments.
Cryptocurrencies
Over the past two decades, cryptocurrencies have come to play an increasingly important role in the global financial landscape. Although Bitcoin is still by far the most well-known, hundreds of others exist, including ether—or ETH—hosted on the Ethereum blockchain. Ethereum is a programmable blockchain, which means it can also support smart contracts like non-fungible tokens. While it might seem odd to collect something so intangible, the Museum has been fortunate to receive an Antminer E3 Ethereum miner for its collection. Manufactured in 2018, it was the first commercially available Ethereum miner. It is functionally obsolete now, but the Antminer E3 marks a historically significant technological development in the field of digital currencies and smart contracts.
What's next
Museum collections are always changing, whether in response to current events or to newly uncovered historical treasures. Once the Museum acquires an object, our dedicated team gets to work cataloging, photographing, properly storing, displaying and interpreting it so that visitors can enjoy the object and learn from it for years to come.
Have something cool in your own collection? Drop us a line! The Museum happily accepts donations.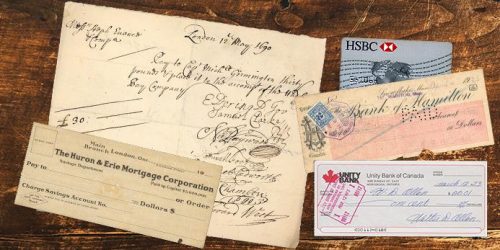 A checkup on cheques
With the continuing rise of e-transfers and electronic payments, people have been predicting the death of the humble cheque for decades. But it hasn't happened yet.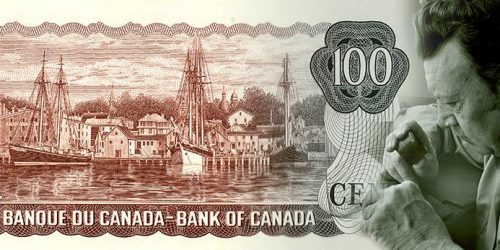 The Scenes of Canada series $100 bill
Few of us ever get a chance to see a Scenes of Canada $100 bill. Which is a pity, because it is an example of great bank note design with even greater imagery by a master engraver.