You may think these words mean the same thing, but in the museum world, they represent increasing levels of active treatment:
Preservation provides a stable environment that minimizes further damage to or deterioration of an artifact.
Treatment minimizes further damage or deterioration by making reversible repairs to an artifact or removing harmful surface contaminants.
Restoration takes the artifact back to its original state and is irreversible.
As a collector, your role is that of the preserver. That's it. Paper has a whole genre of professional conservation practice all to itself, and you should not be repairing your artifacts. And restoration? Well, that's what you do with old sofas—certainly not bank notes.
You are your own collection manager
Know your enemies
Paper is hygroscopic. This means it absorbs moisture from its surroundings. Moisture can swell paper and warp it. At worst, it encourages mold along with a whole host of chemical deterioration that can even affect ink.
And the reverse is not much better. A very dry atmosphere will draw the moisture out of paper causing brittleness. High temperatures will do the same. Often, it's not so much the temperature and humidity as extreme fluctuations in their levels that are the most damaging. Basically, these fluctuations speed up damage occurring to the object.
There is a small army of other enemies out there waiting to attack your bank note collection:
Mechanical damage: abrasion, tears and creases from handling and storage
Pests: book lice, silverfish, cockroaches and beetle larvae snack on paper and rodents shred it for bedding
Mold: highly destructive and a serious health risk for the collector
Pollutants: off-gassing of materials such as wood and paint can cause paper fibres to break down
Particulates: dust and soot will cause paper to discolour
Storage material: cardboard, wood, acidic matboard and adhesive tapes all give off pollutants that embrittle and discolour
Light: ultraviolet light from the sun, incandescent bulbs and fluorescent tubes causes yellowing, fading and weakens paper fibres
Ink: iron gall inks used for signatures on some 19th century notes corrode and cause discolouration, crackling and loss of paper
The Canadian Conservation Institute website covers paper conservation in detail.
The home vault
Fortunately, some simple preservation habits and a few inexpensive products will protect your collection admirably. Start by storing your notes in a reasonably cool, dry place—one that remains that way. Anywhere that is subject to extremes of heat, cold or humidity is the wrong place to store them. Ideally, conservators recommend a temperature between 18 and 22 degrees centigrade and between 45 and 50 percent relative humidity. Most well-insulated homes will sit at the high end of the ideal humidity range, but stability is more important than ideal temperature and humidity.
Watch out for contaminants. Chemicals, car fumes or any painted or glued items that are still curing are all bad for bank notes. Even some woods give off acidic compounds. Damaging gasses will accumulate in storage containers made from oak, cedar, particle board or plywood. Powder-coated metal or stainless steel shelves and storage units are ideal, but not cheap. If you are unable to provide the ideal shelving, at least place a sheet of inert foam or coroplast on them as a barriers.
And always store your notes in the dark!
It's best to make sure your light sources are low UV emitting and not to bright. Modern LED lights are excellent sources of low UV light and there are filters available for other light forms. Displaying your favourite Bank of Canada bank note in a frame in your south facing living room is not recommended.
Sleeves and pockets: the easy fix
You can avoid most issues by storing your notes individually in clear sleeves made from a polyester material such as Melinex (mylar). They isolate your notes from contaminants while protecting them from physical damage, dust, fingerprints and abrasion from other notes. Acrylics and polyesters are acid free materials that do not degrade, give off gas or evolve into anything dangerous, but keep an eye on them. A poor batch of mylar can yellow or get brittle. You can also buy solid acrylic cases that snap shut around your bank notes, providing the ultimate protection. Vinyl-based materials (soft and rubbery PVC) are not safe and degrade, often oozing plasticizers.
Paper envelopes are acidic and will cause deterioration of your bank notes. Look for "acid free" or "buffered" on the label if you must use paper—even for storage boxes. Have a look at what the Canadian Conservation Institute has to say about paper storage and handling.
Handle with care
Dog ears, tears and creases all come from ungentle handling, and hands carry natural oils that will transmit any dirt to the paper. You can avoid adding any more grime to your notes (or your hands) by wearing snug-fitting nitrile gloves. Some gloves have powder inside them to make them easy to slip on—avoid these. Cotton gloves are also not a good idea. They can cause damage to a note by catching on fibers and corners. Having said all that, for brittle, fragile or torn items, it's best to use clean, dry, bare hands so you can feel what you are doing.
Cleaning your bank notes…don't!
Money laundering (of both kinds) is a bad idea. Anything you do with water, especially hot water, will risk damaging a note—and rubbing it with an eraser will abrade it. Ironing out creases also weakens the fibers of old bank notes and may damage the security features of modern ones.
It's best to be satisfied with the current appearance of your paper money—stains and creases just add character and reflect their history. So, do take care, but not too much. We like to think that, for the greater good of numismatic heritage, your notes stick around for a very long time just the way they are.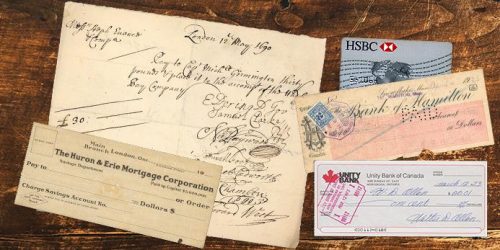 A checkup on cheques
With the continuing rise of e-transfers and electronic payments, people have been predicting the death of the humble cheque for decades. But it hasn't happened yet.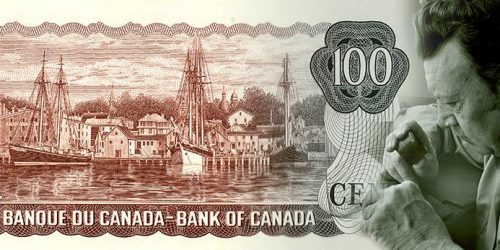 The Scenes of Canada series $100 bill
Few of us ever get a chance to see a Scenes of Canada $100 bill. Which is a pity, because it is an example of great bank note design with even greater imagery by a master engraver.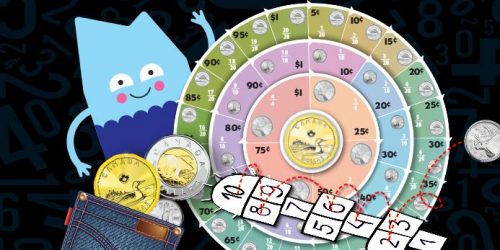 Teaching math using money
From skip counting to making change, working with money is a great way for students to practice math skills.