American Alliance of Museums Expo
Notes from Seattle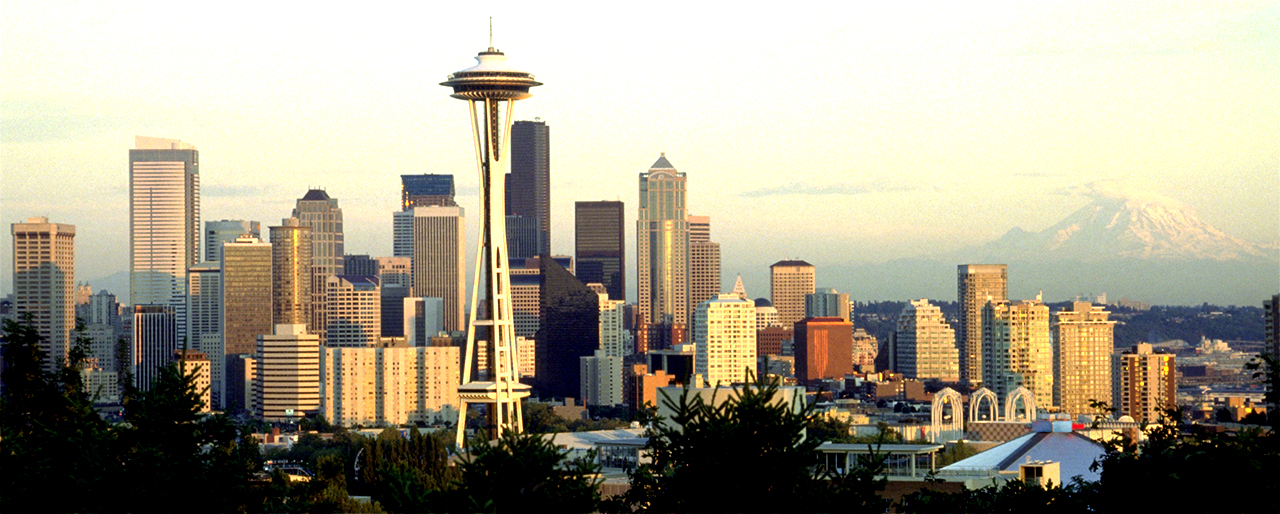 The Seattle skyline with the Space Needle and Mt. Ranier. (photo: Daniel Schwen)
The AAM is an important organization - one that has professionally advanced and been an advocate for American museums since 1906. Every year they hold an enormous conference and exposition in a major U.S. city. This year's event was held in Seattle, Washington and presented 268 exhibitors and hundreds of speakers covering every imaginable topic and service pertaining to museums, zoos and cultural centres. This year we sent a third of our curatorial team and fully half our design team to Seattle! Yeah, this just means that Museum Graphic Designer Matt Paquette and Assistant Curator Raewyn Passmore flew out (How big did you think our staff was?) to make some contacts, learn some new tricks and see some very cool technology. Matt calls out his top 5 trip impressions:
Lines & Venues & Orators, OH MY!

Overall, the expo was really well done. The logistics around organizing a 4 day, multi-venue expo that hosted thousands of attendees and featured hundreds of speakers in over 150 sessions would be mind boggling at the best of times. During the entire conference I had no issues whatsoever in finding the right room, or making it to my session on time. One thing that helped a TON with making my experience an enjoyable one, was that they had an Android and iOS app available for download. Featured on this app was info on all the sessions and speakers as well as maps, schedules and so much more. All in all, this was a perfectly enjoyable experience that could have easily been a mess.
Pop Goes the Exhibit

As a graphic designer and fairly new to museum culture, I was happy to see that there was a litany of sessions dealing with museum-centric topics that were presented in a very accessible manner. For instance: the Pop Culture session. This was just so much fun. The general topic was how to incorporate pop culture into your museum and its exhibitions as a means to attract new visitors. As a pop culture enthusiast myself, it was refreshing to see what can sometimes be 'dry' subject matter in a light that helps a whole new audience identify with it.
And We're Walking!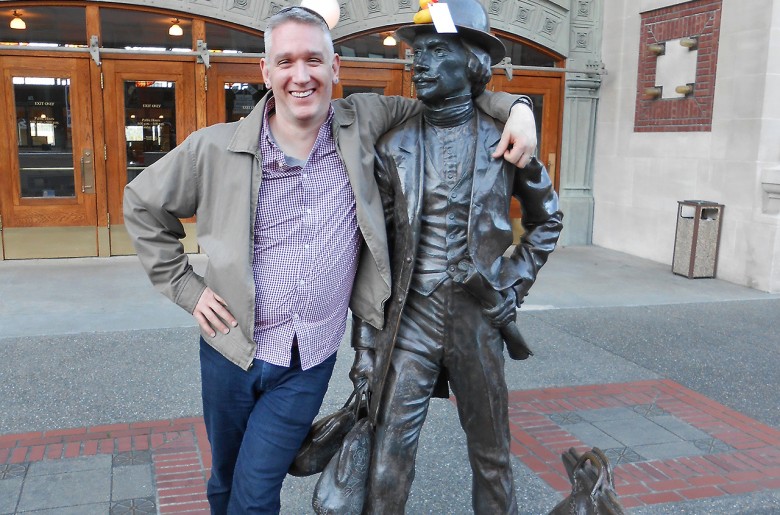 Matt at Tacoma Union Station. No idea who his buddy is or what the duck is about.
With all the hard work of learnin' during the day, the evening's more social events (although still highly educational) were very popular. I experienced two evening events: a 'moveable feast' in Tacoma, where we got to visit 6 museums in one evening, and a night at the Seattle Art Museum. The moveable museum feast was incredible. I've done something similar before with a restaurant tour in Ottawa's Little Italy, but adding in the museum element was pure genius. Each venue we visited laid out a fantastic spread and some even had live music. There were a total of 6 museums on the tour, all within walking distance - although we only made it to three. Our first stop was the Tacoma Art Museum, followed by the Tacoma Museum of Glass and finally the Washington State History Museum. The highlight for me was the stunning Museum of Glass, especially the "Hot Shop" that boasted a three-furnace glass blowing studio and auditorium.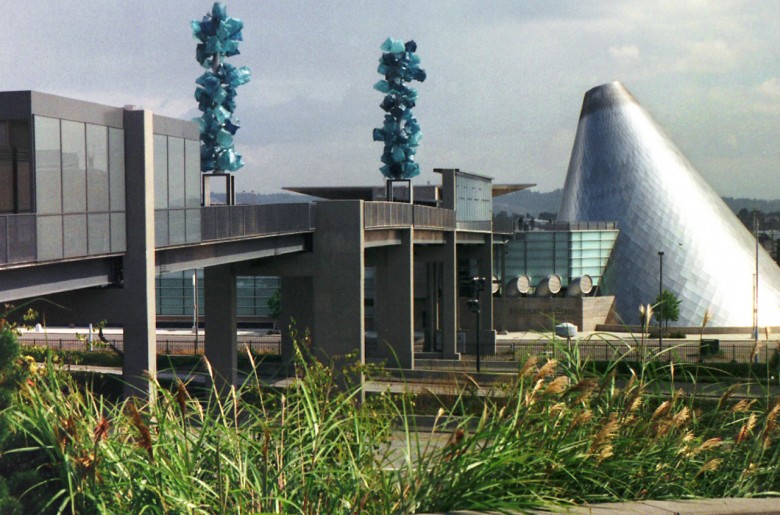 Museum building complex
Have Exhibit, will Travel

Tuesday morning, I was able to attend the NAME (Nat'l Assoc. for Museum Exhibition) breakfast. This was a really great session and networking event that showcased a number of wonderful travelling exhibitions and fostered some great conversations. This was a chance to meet with those involved in exhibition design: a field of which I now find myself a part (and enthusiastically so). I got to meet some great people doing some really fantastic things with travelling exhibitions. Definitely it was an event I'd do again.

No Lussites Allowed

The Expo part of the conference was certainly the cherry on the sundae - such a wide variety of vendors and exhibitors peddling their wares! I did a quick walk through, only stopping a couple of times to chat about some piece of technology that my inner geek simply had to know more about. I could have easily spent 4 hours going from booth to booth, there was just THAT much to see. I managed to breeze through in a little over 120 minutes. I'm especially excited to explore more about multi-touch interactive screens. I think that we can do some inspired things with this technology; technology that in my humble opinion, could be a game changer as far as the Bank of Canada Museum is concerned.
It was an exciting and profitable event: one worth the 4 airports, 14 hours of flying and a missed connection for. Next year the AAM Expo is in Atlanta, Georgia. I'll start talking to my Director now…