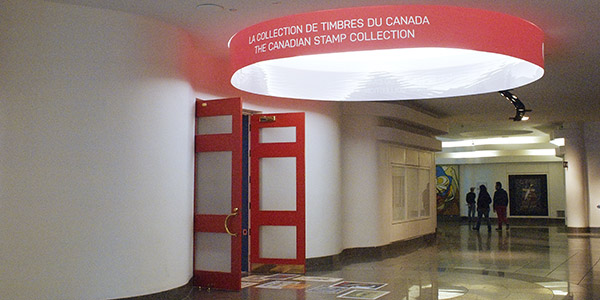 Going to an opening is always exciting. You get to see the reaction of visitors and how other museums treat a given subject - in this case a subject related to our own. On 27 March I was invited to the Canadian Museum of History, which was opening its new Canadian Stamp Collection gallery. This room displays more than 3000 stamps and is the only place where Canadians can view the entire national stamp collection in one room: every stamp ever issued by Canada. For me, it was a bit of a nostalgic event; I worked for four years in the old Canadian Postal Museum. I spent many days talking to visitors about the Canadian Stamp Collection, showing them how, as Canadians, we use stamps to remind ourselves of our history.
As far as openings go, it was a small one. Officials from both Canada Post and the Canadian Museum of History, some museum members and media were in attendance. Nevertheless, I had a chance to chat with a member who donated part of his own collection - which was on display. The passion the man had regarding stamps was contagious. It reminded me of my own collection of stamps, one I had as a child. It was a small collection, but I would ask my grandmother for any stamps she got from her relatives and friends from the United States and Africa. I was so proud of it that I even took some of my allowance to buy some new stamps to add to it. A few weeks ago I found this old collection. I looked at it with even more fondness and interest since I am currently involved in planning an exhibition which will talk about stamps and bank notes and the work of their traditional creators: the engravers.
Because the subject of our next exhibition is engravers, those artists of enormous talent whose work gave stamps and bank notes that unique look, we felt we must feature stamps as well as bank notes. This exhibition is in partnership with the Canadian Museum of History whose curators have provided us not only with expert advice but also access to this extraordinary collection of stamps and paraphernalia. Over sixty stamps and stamp-related artifacts will be featured in this exhibition.
You should take the opportunity to visit this new permanent exhibition at the Canadian Museum of History, it's worth the trip. Also, if it stops somewhere near you, please visit Voices from the Engraver. It will be launched this fall and will travel through 2017, stopping at many locations across Canada.