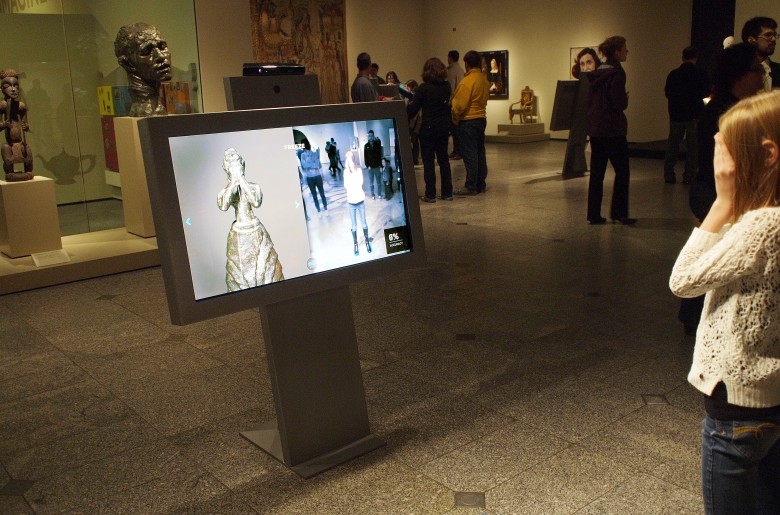 We continue our tour of Gallery One with Jane Alexander.
Upon entering Gallery One, you may see somebody standing on one leg and waving her arms in front of a flat screen. Should we call security? Nope. Here's what happens next: a camera takes a picture of her, digitally compares the image to images stored in the museum's collection, and comes back with an image of an artwork that most resembles this pose. At another station a man makes a Calvin and Hobbes style face at the camera. Same deal, digital search, back comes an artwork sporting a similar expression. Elsewhere a boy draws a random shape with his finger on a screen's surface, again, up comes a piece of art with that shape somewhere in its patterns. Each of these call-and-response events happen almost instantaneously and represent just a few of the interactives that offer the visitor a seemingly never-ending river of artworks, all available to be seen for real on the gallery walls. Among the visitors, the effect is palpable: there is laughter, enthusiasm, energy—a departure perhaps from the decorum we normally associate with a high-end art gallery.
What Jane has organized is a database system with a retrieval function so fast and advanced that it responds to seemingly random inputs of visual cues in the same way more traditional systems respond to category tags based on historical or topical information. But it doesn't stop there.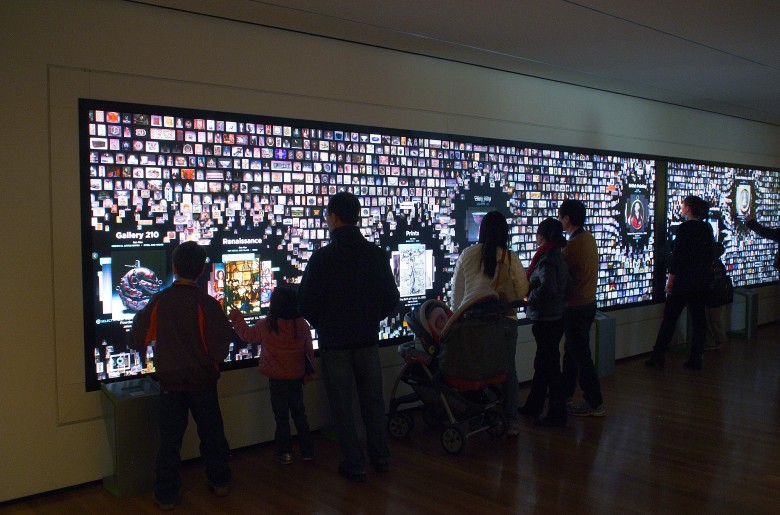 The star of the show is the Collection Wall, a forty-foot long touch panel of 150 tiles that, at any given time, may be displaying nearly all of the collection's over 3500 viewable objects. Images flow like water, pop from small into large scale, twist around each other, with the whole gestalt refreshing itself every 40 seconds or so. Visitors touch and drag any piece to make it expand and show a stack of related images just behind, begging to be explored. Visitors can digitally dock their own iPads to the Wall and 'favourite' artworks by dragging them into their devices. They can create their own gallery tours and the results are posted on the app. The app is the key, tying together experiences, the interactive with the physical. Using this app, many of the items in the galleries can be 'photographed' by an iPad which then overlays points of interest on the art and provides a sidebar of in-depth information and videos. It also features a series of tours you can take through the gallery. Some of the tours are narrated and some of the many you can choose are created by visitors from their 'favourites' list they've taken from the wall. The app has a location device that places you within feet of where you are.
The constant renewing of the app and Wall is nothing short of astonishing, an observation that prompts Jane to point out that it is the speed and robustness of the database and image retrieval that makes it possible. A lot of work went into creating that back end, something she expects to pay dividends and new and increasingly innovative interactive experiences vie for a space on the stage the museum has created.