Our next travelling exhibition is on the drawing board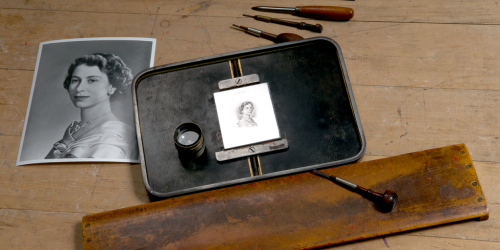 With the new year, we are right on schedule for developing our next travelling exhibition. Voices from the Engraver is number two in a planned set of travelling exhibitions that will keep our metaphorical doors open for Canadians while renovation keeps our physical doors closed. Voices represents the first effort from our newly organized management and development team. That very newness can sometimes make for a process that feels like two steps forward, one step back; nevertheless both directions seem to have their purpose - backward steps invariably teach us valuable lessons and forward steps are, well forward steps. It's all pretty exciting.
Voices from the Engraver is an exhibition about the art and artistry of Canadian bank notes and stamps. In our daily rounds most of us pay little attention to either cash or postage, but with even the most cursory second look, we can begin to realize how beautiful they are. The smallest part of a stamp or bill is a fascinatingly detailed, wee little work of art.
Based around the work of the engraver, (the artist who engraves an image onto a metal printing plate) the exhibition covers the processes, techniques and visual icons that come together to make our bank notes and stamps. Extra little exhibits ('exhiblets', as our planner calls them) are peppered around the main subject areas, providing insights into specific bills and stamps, featured personalities and alternative designs.
Planning any exhibition usually starts out in an atmosphere of faintly controlled mayhem as ideas and concepts get merrily flung like snowballs in all directions. Eventually themes and structure start to emerge from the snow and we build a framework that the ideas and messages can find a home in. Then one day your artifacts are chosen, your text themes are outlined, your designer is beginning to rough out plans and you have no idea how you got there.
That's where we are now. It's a good place. It's where the real ideas germinate and flower. It's here that true momentum begins and the imagination starts to become reality. So what have the Voices from the Engraver said so far? We'll give a listen next time.
January 4, 2021

With his superpowers, Peter Parker would no doubt do a fabulous job of tiling his kitchen backsplash. But as Spider-Man, he has more valuable things to do with his time.
November 30, 2020

For daily users of modern money, getting an understanding of the old British system of currency can be an act of confusion and wonder. But it's also a peep into 13 centuries of European numismatic history.
November 27, 2020

Ever wondered who decides what goes on Canadian coins or bank notes? Or why our coins have certain names and our notes are different colours? Use this guide to help answer some of your money-related questions!