Canada's oldest museum is among the most modern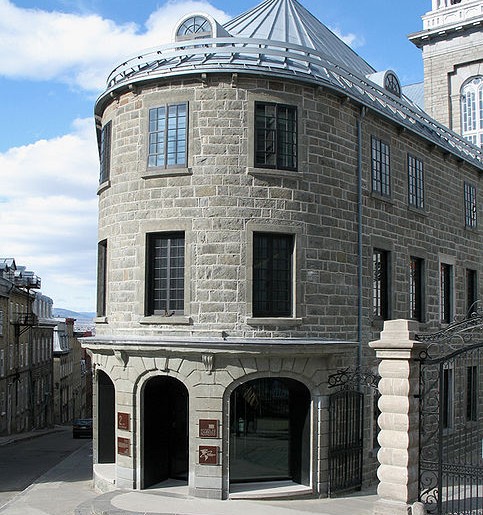 Down the slope behind the City Hall of old Québec, attached to the 17th century Séminaire de Québec, stands a beautifully curved Québec Neoclassical façade housing the Musée de l'Amérique francophone. Ironically, given the building's history, much of the Musée's collection (acquired as early as 1806 when it was the museum of the seminary) is scientific in nature. Today however, the museum's vision concerns itself with both religious and secular fields only inasmuch as they help it fulfill its modern mandate - interpreting the history of the Francophone peoples in North America. This they do with a style and unusual richness of atmosphere intended both to educate as well as to foster cultural pride.
After wandering past spooky reliquaries in the seminary chapel, you cross a courtyard and enter first into a beautifully integrated modern annex and then, surprisingly, into the dark. In this hushed, velvet darkness is the exhibit on the history of the seminary. Rich paintings, ceremonial paraphernalia and icons are picked out in careful spot lighting, creating a calm, reverential environment.
But, then you step into "ON THE ROAD: The Francophone Odyssey" where the darkness comes alive with a wholly immersive environment of illustrated ships, forts, streets and churches glowing bright blue on towering, black three dimensional surfaces. These monumental walls of light flow and sparkle with layered, projected videos that animate key areas to tell the stories of the Francophone in North America. Audio content is ever-present on permanent loops, further immersing the viewer.
As you pass into the modern era, standing three dimensional forms of semi-translucent fabric announce new chapters and everywhere you find little projected images, shapes and text on the floors and the walls. Highlights include schoolroom desks with inlaid video touch screens through which you browse life stories, a stand of translucent, acrylic 'wheat' and what can best be described as a storeroom of memories. This last one featured puzzling walls of blank containers with the occasional empty jar. Those jars suddenly glowed with the internally projected image of a face that then spoke to you, giving you their feelings of what it means to be Francophone in North America- truly visually astonishing.
This is not a family destination. Its content is presented and written to a standard that would bore children; it is a modern, refreshingly adult museum experience that does not underestimate the public. Add it to your list of Québec must-sees.