Klondike gold! It wasn't all mined with picks and shovels.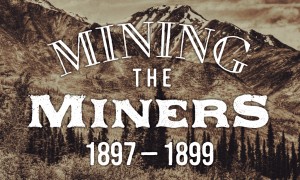 In 1897 and 1898, tens of thousands of men and women toiled up the mountain passes and down the Yukon River to Dawson City with only one thing on their minds: gold. But not all of them were miners.
The Bank of Canada Museum presents Mining the Miners, an exhibition about a booming economy of sky-high prices and staggering profits, broken dreams and some very unorthodox banking. Presented in a beautifully detailed diorama of original Dawson buildings, see how the profits were really made in this wild and wooly frontier metropolis. Along the way, you'll also see some bank notes specific to the gold rush, tokens good for a variety of human vices and of course, a real nugget of the stuff dreams are made of.
Mining the Miners opened on 24 June 2016 and will run until the end of 2017 at the Canadian Museum of History in Gatineau, Québec. Located on the lower level, next to the Canadian Stamp Collection.
How is paper made? Can good engraving foil a counterfeiter? What are those little holograms for? In The Money explores the science of note-based currency.